Pipe/Hose Ramps
SafetyGrip Solutions manufacture a range of heavy duty anti-slip Pipe & Hose Ramps. Each ramp is designed with dual purpose in mind as they offer both high traction surfaces to ensure safe pedestrian access whilst simultaneously acting as protective covers for the pipes & hoses that they bridge.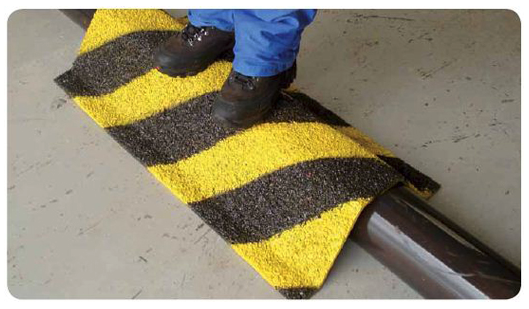 Benefits & Features
Pipes & hoses that straddle the decks can pose a particular danger to personnel, in addition to the obvious trip hazard they can become vulnerable to accidental damage which may result in additional hazards. Our ramps are quick and easy to use and provide a safe and effective method for straddling obstacles whilst ensuring a safe route for personnel.
Each ramp is heavy duty and extremely robust whilst still remaining lightweight enough to be mobile, therefore it can be used in multiple locations around the work site. (Permanent fitting can also be accommodated).
Applications
Typically designed for pedestrian use they can accommodate small bore Pipe, Hoses and Cables up to 150mm (6″) in diameter, they are also available in a combination of styles and standard sizes. Additional larger custom sizes may also be available.