Rig-Grip Safety Mats
SafetyGrip Solutions manufacture and supply a range of Anti-slip Safety Mats; these heavy duty Polyurethane rubber mats have been developed and tested to offer superb levels of traction and safety. Primarily designed for Rig Floor applications our mats can be installed in a variety of locations including rotary tables, setbacks, monkey boards, driller's cabins as well as general deck areas.
Rig-Grip mats are all custom made therefore can personalised to suit each individual customer, as standard we can incorporate various hazard markings, company logos and rig names into the surface of each mat.
Rig-Grip Safety Mats will offer long term solutions to your slips and trips hazards – the increased comfort and safety will ensure your rig crew stay safer for longer.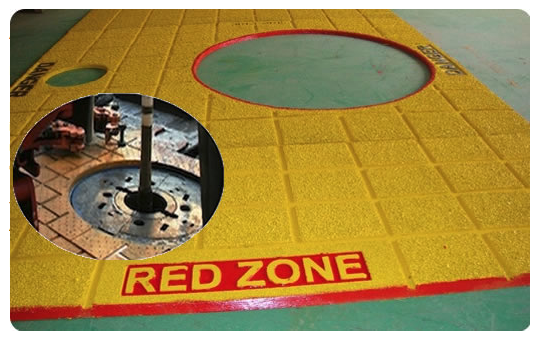 Applications:

Rotary
Rig-Grip Rotary Mats are custom manufactured to a thickness of 30mm (1¼") thus providing superb impact resistance to deal with whatever your rig crew can throw at them, each mat is custom moulded to fit around the rotary table and can also be shaped to fit around any adjoining deck equipment.
The high level of grip is provided by the stainless studs and our unique high traction gritted surface. Additional grooves and channels provide extra traction and allow excellent fluid run off.
Rig Floor
Rig-Grip Safety Mats are ideal for main rig floor areas, these mats are traditionally manufactured to a thickness of 20mm (¾") thus providing ample strength and durability to cope with the rigours of an active rig floor. Like the rotary mats they come channelled for positive drainage and can be supplied with either studded or gritted surfaces (or both).
Safe Zones / Walkways / Monkey Board / Drillers Cabins
Rig-Grip Walkway Mats are manufactured to a thickness of 12mm (½"), ideal for walkways and genial rig floor safe areas. Each mat incorporates our high traction surface and can be supplied with interlocking sections, again safe area markings can be incorporated into the surface of each mat.