Custom Products
SafetyGrip Solutions offer an extensive range of custom products, from individual one offs through to multiple pre-prepared items. We have the experience and capability to undertake all manner of projects and we welcome any specific requests from our customers.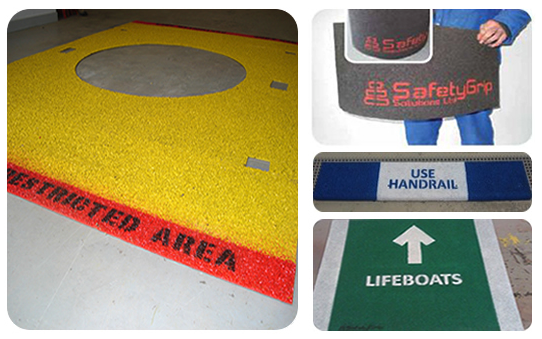 As well as custom styles and shapes we can manufacture to incorporate a variety of colour coding schemes and these can be supplied to suit your individual location – you may just want to keep your own company colours. With this we can also incorporate safety signage/hazard marking to assist with risk awareness and hazard identification.
Unusual Sizing Fluorescent Finishes
Various colour codes Pre-cut and shaped
Safety Markings Tailored designs
Survey and Installation
As every site/location is different it is vital that the correct product parameters are specified, it is important that the following points are taking into consideration prior to ordering.
Type of Traffic ( Foot/Vehicle) Volume of Traffic Likelihood of contamination – what and how much? Installation method – what type of surface (grating/plated decks – this will define the fitting hardwear) Quantity and sizing Colour Coding
If in any doubt please don't hesitate to contact our sales and technical team as they will be delighted to talk through your requirements. Additionally if you would prefer us to handle everything we have the capabilities to undertake the project from start to finish: survey – manufacture – installation.