Anti-Slip Walkway/Deck Covers
SafetyGrip Solutions manufacture an extensive range of anti-slip floor coverings which are designed to be installed directly onto your existing walkway/deck surfaces. These heavy duty anti-slip sheets will provide an excellent high traction surface even in the harshest of conditions. Whether it be walkways, decks, ramps or drill floors we have the solutions to keep you on your feet.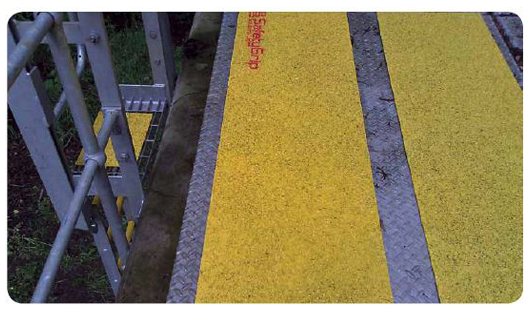 Benefits & Features

With so many differing types of floor surfaces out there – and with each posing their own particular hazard it is vital to find and choose the correct anti-slip surface. SafetyGrip Solutions have developed a range of anti-slip sheeting which is both quick and easy to install whilst remaining very tough and durable. We can also ease the installation even further by preparing every sheet thus reducing costly downtime onsite.
Applications

Walkways, Decks & Ramps: (WD1) Our WD1 product is designed for application onto walkways, deck and access ramps. Manufactured to a thickness of 3 -5mm this sheet maintains a certain flexibility which allows it to conform to any un-even deck surfaces. The heavy duty construction ensures superb impact resistance and they provide an excellent pedestrian surface. (Can be installed to steel, timber or concrete surfaces – screwed, welded or bonded)
Mezzanines & Grating Decks: (WD2) Manufactured to a thickness of 5 -7mm, these covers are slightly thicker to increases the strength and durability, ideal for non-solid surfaces like grating or mezzanine decks. This tile is heavy duty and has superb impact resistance – they will provide an excellent pedestrian surface. (Can also be fitted to hard deck areas for forklift trucks, etc) (Fixed with saddle clip assemblies or welded)
Drill Floors: (WD3) These tiles are manufactured to a thickness of 7-10mm. A heavy duty tile which contains extra reinforcement to cope with the extreme demands and rigours of an active drill floor – they offer extremely high impact resistance to handle heavy pipe handling and equipment. (Install on both timber and plated decks – screwed or welded.)